installation, 2013
Manmade holes that appears in nature has been places of investigation in Signe Lidén´s artistic practice during the past years. Foremost holes where remnants of human civilization is stored for an undefined future have been objects of her research, places like The Global Seed Vault, Onkalo Nuclear Waist Repository and Damanhur Temples of Humankind.
The work Writings has its inspiration from an archive of reticent and extinct knowledge situated in a cave in Southeast China, an archive that collects records of the process of creating artworks and objects from extinct craft traditions. But how do you preserve process? Can you keep what surrounds a thing, without keeping the thing itself? Is it possible to preserve the aura of a work of art, without the actual work? These questions were the starting point for Lidén´s installation 'Writings' . It is a work about material memory. Its focus is on the process, and the process is something without an end. What is being created, remains unfinished forever. It opens up a field of continuous molding, without a final result. It is the idea of inscriptions as a ​​ritual but also as something auditive. What you hear is part of the things
that happen. The visitors will obtain an auditory access to the interior space of the things they are looking at by putting their heads into listening boxes. On the ceiling, an electromechanical construction, a clockwork with chains driven by gears of different sizes causes movement of different durations. The mechanism in the ceiling drives circular plates, from which sticks are dangling down. The sticks touch piles of sand and their movement inscribes, leave traces, shapes and reshapes the piles. The sticks are microphones, amplifying the sound of their ritualistic labor and sends it into the listening boxes.
Writings is a work made for Resonance  residency program and the realisation of the piece has been made in collaboration with Roar Sletteland.
Writings in Kortrijk                                        Writings in Maastrich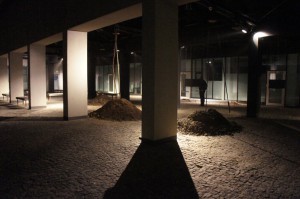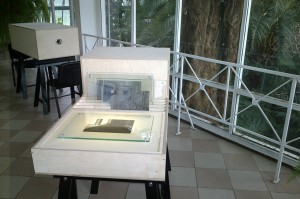 Writings in Krakow                                       Writings in Riga
The installation was made in Kortrijk for Flande Festival and has been shown at Into in Situ in Maastricht and Audio Art Festival in Krakow in 2013, and at Skaņu Mežs in Riga 2014.
Interview made by Harold Schellinx can be read here.