residency, exhibition and seminar, commissioned by LIAF 2019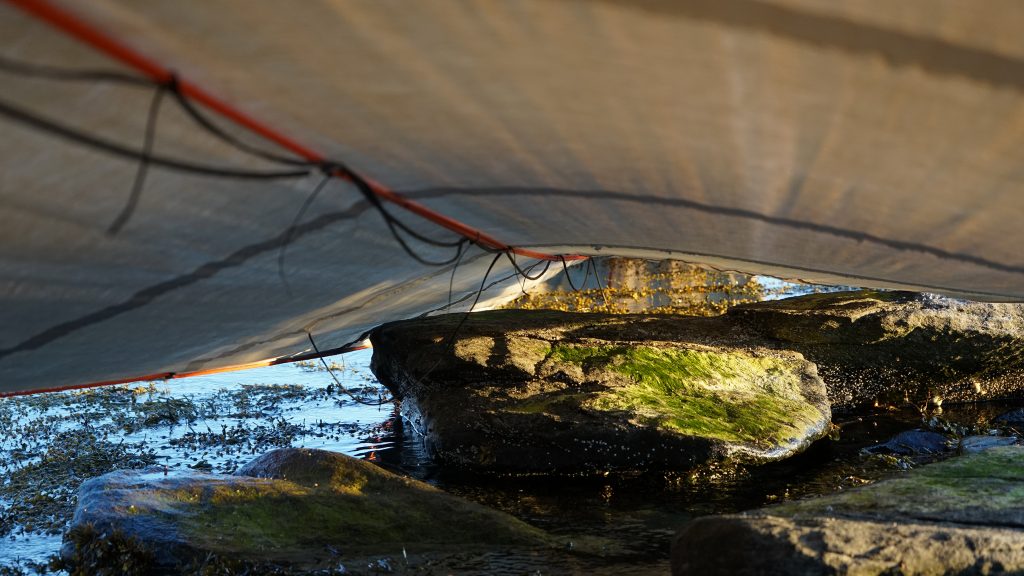 The Tidal Sense is a sculpture and a sounding canvas that has spent several weeks stretched through the intertidal zone in the village of Ramberg, Lofoten, where it functioned as a 28 metre-long microphone membrane, tuning into the rhythm of the tide. At high tide it was partially covered by waves and water, and at low tide it encountered winds and weather. Within the exhibition space in Svolvær during the LIAF manifestation 2019, the canvas became a speaker membrane, voicing the rhythm and sense of what it is to be part of this intertidal situation.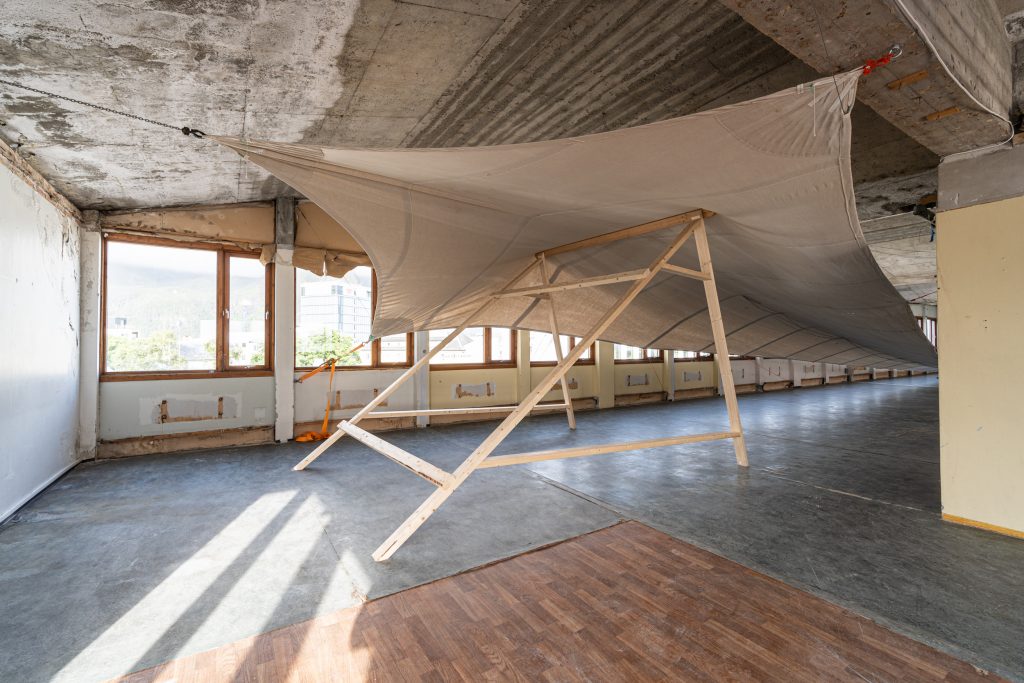 The research process of this work has opened up a series of questions, both through an ongoing experiential encounter with the structure and material of the canvas, and through its position within the intertidal zone. The questions, "How can the tidal make sense as a figure of long-term thinking?" and "What would constitute the tidal sense in itself?" were not only starting points for my residency, but they also formed the basis for a collection of recorded conversations with Grace Dillon (Indigenous Studies & Literature), Arjen Mülder (Biology and Media Theory), and Geir Olve Skeie (Neurology and Music), as well as talks with local visitors and the children from the school in Ramberg. These questions are put forward once again within the installation, in a podcast work, within photography, and within the displayed dictionary, which provides definitions of terms for long-term thinking that have been shared in translation.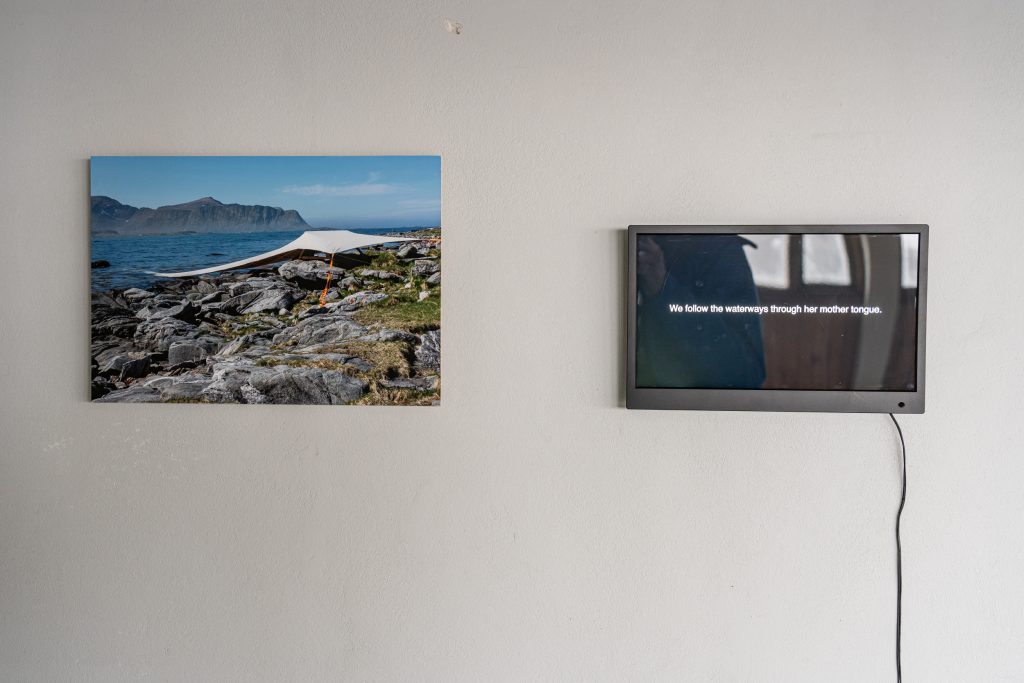 The project is generously supported by Norsk Kultturråd, Fond for Lyd og Bilde, Vederlagsfondet, Statens Utstillingsstipend, Nordnorsk Kunstnersenter and Sonic Acts (Spatial Media Labs).
Many thanks to Hilde Methi, Neal Cahoon, Karolin Tampere, and Torill Østby Haaland, and the Berte Ynnesdal whole crew at LIAF. I am also grateful for the the inspiring conversations with Grace Dillon and Arjen Mülder, the 6th grade at Ramberg School and the local community at Ramberg. Thanks to sailmaker Peter Høeg expertice, curiosity and hard work. Thank you, Guillaume Dutilleuxn and many, many thanks Peter Meanwell for producing the podcast "The Tidal Sense".
The documentation photos from the residency at Ramberg are captured by Rolf Larsen and Signe Lidén. Photos from the exhibition at LIAF 2019 are captured by Kjell Ove Storvik.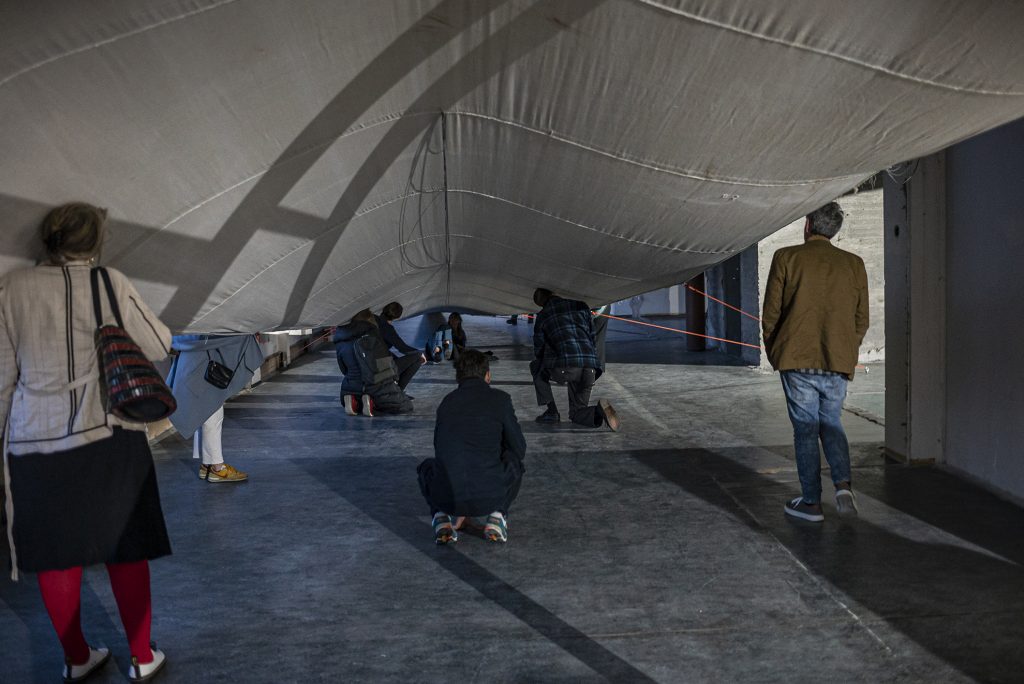 Please watch in high resolution to read: