(ARm) # 1
Rhythm makes form. The tidal rhythms create time for rest and movements. Between the 10th and 17th of June, 2022, we will follow the flows and ebbs of the tide at the shores of Slettnes in Sápmi. We will study the rhythms of the tide and the forms they create through sensing, recording, measuring, storytelling and ritualizing.
Pulled by the moon the tidal wave (ca. 12 hrs 25 min) is the prime driving force behind the tidal rhythms. Tuning into the tide is to attune our clock oriented bodies with the rhythms of the moon on the Arctic polar day. A rescaling of the tidal pull to the tidal pool offers an opportunity to observe and think through sensorial, spatial and semiotic entanglements.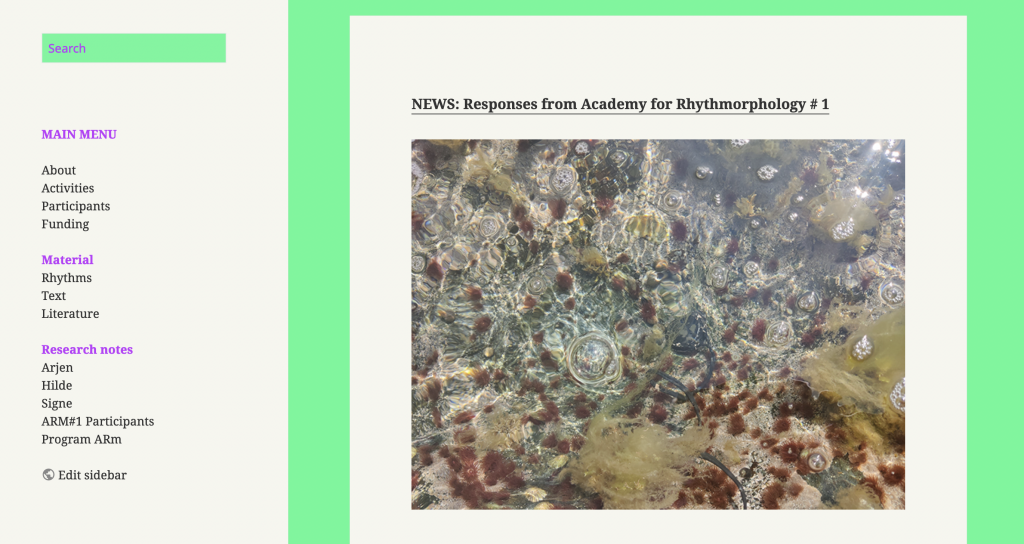 ARM has its own wiki docu, please jump to here: https://arm.flytedokk.org
ABOUT
The Academy of Rhythmorphology (ARm) studies rhythmicity as a form-finding force. We explore the internal and surrounding rhythms of the living, how they connect and oscillate and make form. ARm is also concerned with the rupture of external rhythms and their effects on life forms.
The Academy of Rhythmorphology is a collaborative initiative by artist Signe Lidén, writer Arjen Mulder and curator Hilde Methi. ARm has emerged through an engagement with the intertidal zone along the shorelines of the Lofoten islands in 2019 and the work The Tidal Sense by Lidén within LIAF 2019.